Today's letters: Fixing health care isn't just about dollars
Wednesday, Oct. 25: Doctors do not have the skills to run businesses, which is what the system has them doing now, one reader says. You can write to us too, at [email protected]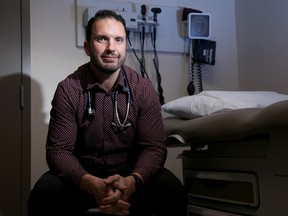 Article content
We must rethink outdated health care
Re: 'I am a family physician and I am drowning': Ontario family physicians are pushing for change, Oct. 19.
Article content
Once again, we hear from family physicians that the solution to a broken health-care system is more dollars. I disagree. Decision- and policy-makers need to embrace a planning cycle for the future that involves studying other systems, implementing pilot structures and conducting thorough evaluations.
Article content
Old ways of doing things are just not good enough.
Family doctors should not be setting up offices with costly overhead, running businesses or filling in paperwork unless related to patient-care management.
Family doctors do not have the skills or business savvy to run efficient and effective offices. Family doctors are trained at great expense to treat patients. They need to practise within community health centres where they can enjoy regular work hours, benefits and backup, not having to worry about administrative support.
Medical students should be told that family doctors will never become wealthy but they are critical team members in a healthy and effective health-care system.
We need to engage forward thinkers who can break away from outdated health service delivery and try new approaches. I would rather put my money on them.
Barbara Sheldrick RN (retired), Almonte
Another $8 million poorly spent
Re: NCC paid over $8 million to replace a barn at Rideau Hall, records show, Oct. 19.
The NCC believes it is more important to ensure the government's livestock and vehicles are safe and sound in a brand new $8-million barn than it is to repair/maintain the government-owned homes of our prime minister and leader of the Official Opposition.
Article content
And we laugh at the dysfunctional Republican Party to the south of us, really.
Ken Imerson, Greely
Couldn't the GG simply declutter?
Using Google Earth, I could see that our $8 million got us an ordinary-looking garage. That is a lot of money to protect the old Lincoln Town Car used by Her Excellency.
There seem to be many buildings for storage on the estate so maybe the staff could do some decluttering like I do in my garage and my basement. We can only hope that the same contracting personnel will not be involved in the renovation of 24 Sussex Drive; Canadian taxpayers cannot afford this type of folly again.
Rémi Guertin, Carlsbad Springs
Singh should just get out of the way
When will Jagmeet Singh and the NDP realize they are in the way of true democracy?
Siding with Prime Minister Justin Trudeau and keeping him in power through a formal agreement is not what the citizens of this country voted for. The true opposition to the Liberal government is the Conservatives. If not for the actions of the NDP, a vote of no confidence could have been held to remove Trudeau from office.
He has made Canada a non-entity on the world stage. No leader of the free world will believe anything he says, nor will he ever be trusted with sensitive information.
Dave Currier, Barrhaven