New website connects Sarnia-area residents with mental health help
The website was developed by Lambton Public Health in consultation with other local agencies.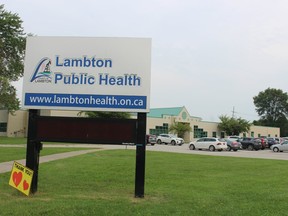 Article content
Minds Connected, a new online resource in Lambton County, has been launched to help individuals and organizations take action to improve mental health, something local surveys indicate was negatively impacted during the pandemic.
Article content
The website, mindsconnected.ca, was developed by Lambton Public Health in consultation with other local agencies.
Article content
"Minds Connected is basically an online resource for people in Lambton County to connect them to mental health services and supports," said Anita Trusler, supervisor of health promotion with Lambton Public Health.
"It's also a tool that workplace organizations and schools can use to find evidence-based interventions that they can apply to support mental health in their settings," she said.
A "thorough literature search" and "evidence review" was carried out by Lambton Public Health to find "best practices and evidence-based interventions in those settings," Trusler said.
Lambton Public Health worked with more than 10 partners, including Bluewater Health, Canadian Mental Health Association, St. Clair Child and Youth Services and local school boards, she said.
Article content
Trusler said they also spoke to representatives of local workplaces to discover what they needed.
"They were very much a part of that process."
Trusler said the project was a response to what Lambton Public Health learned from community mental health surveys in recent years, including looking at the impact of the pandemic.
A 2017 survey found 70 per cent of local residents surveyed reported excellent or very good mental health. By 2021, only 59 per cent of those surveyed reported excellent or very good mental health, according to the website.
The survey found 56 per cent of those who rated their mental health as good, fair or poor said it had worsened since before COVID-19.
"We're certainly seeing increased need for mental health supports in our community," Trusler said.
Article content
Those aged 18 to 34 report the lowest self-rated mental health and those who are marginalized are at higher risk for mental illness, according to a report.
Trusler said the intent of Minds Connected is to reach individuals before they are "in crisis" and putting the resources online makes them easier for residents to access.
She added there will be an outreach campaign for schools and workplaces in the fall "to help them understand how the website can be a support for them."
"There's so much information out there," she said.
"I think anyone who uses Mind Connected can be confident that we've sorted through that. We've done a thorough literature search and we've identified things that come from an evidence-based" source.
Article content
The website doesn't replace treatment or counselling, "but it does connect people to where they can find those supports," Trusler said.
The website links with the local Age Friendly Sarnia-Lambton online resource "that really helps people navigate the system," she said.
"We really see the key settings that will benefit the most from Minds Connected will be schools and workplaces," Trusler said.
"Maybe there are some opportunities to support mental health for students – to build resilience within students – and the same with workplaces."
More services have been coming to the community recently to address mental health and substance abuse challenges, including the recent opening of the Youth Wellness Hub Ontario location in downtown Sarnia, Ryan's House, housing and homelessness outreach and others, the report says.
Article content
"A lot of things ties together at the community level," Trusler said.
Conversations with representatives of local workplaces found they are looking for help, particularly small and medium size businesses, she said.
Larger workplaces already may have access to resources and employee wellness programs that aren't available in smaller workplaces, Trusler said.
"We have a lot of incredible mental health services in our community and Minds Connected is just another way for people to link to those organizations that really work uniquely in that mental health treatment and service space," she said.