Housing and health crises eroding Canada's pro-immigration consensus
Sixty-one per cent of Canadians polled said the 500,000-per-year immigration target is too high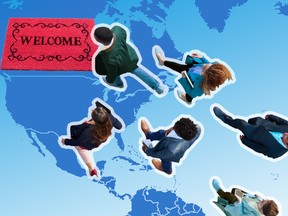 Article content
For about as long as most politicians and voters alive today remember, Canada has been a solidly pro-immigration nation. Until now, public opinion was effectively unanimous, at least outside of Quebec, that more newcomers represent an absolute good.
Article content
This allowed us the luxury of being rather superficial about immigration policy. It was far from a matter that decided elections — in fact, it's such a historic nonstarter, pollsters rarely bothered to include it when asking Canadians about what issues mattered to them.
Article content
Any discussion of it was usually one note: how do we get more immigrants, quicker? Differences between parties' approaches were barely visible to the human eye.
But public opinion can shift rapidly when voters' lived experiences, or even perceptions of them, change. Indeed, a new poll by Abacus Data's David Coletto suggests we may already be on that path.
This is why, particularly with housing and health-care shortages causing pain from coast to coast, it was never a good idea to take Canada's pro-immigration consensus for granted.
Article content
As housing and health-care problems slipped into full-blown crises, the federal Liberals continued to do exactly that. Not ones to favour policy nuances and high on moral hubris, Prime Minister Justin Trudeau's government took the "more is always better" immigration ethos to the max.
While commentators, including me, and economists warned that this rapid-scaling approach may not be sustainable and risked souring Canadians on immigration, there's been no sign anyone in power is listening.
No sign anyone in power is listening
Canada's immigration targets soared to 500,000 a year, not including the Temporary Foreign Worker Program, which totalled over 200,000 new approvals in 2022, or international student visas, which are limitless and counted just over 550,000 new students last year. That's well over a million new people entering Canada per year.
Article content
To help visualize the magnitude, that's an entire Calgary (population: 1,019,942) added each year. Or approximately two Hamiltons (population: 519,949), or three Halifaxes (population: 359,111).
Meanwhile, there's a surgical wait list of 6,509 children at Toronto's SickKids hospital, 67 per cent of whom are beyond the recommended window for care. Wait lists for family doctors are reaching the 10-year mark in some locales. British Columbia is offloading at least 5,000 cancer patients to the U.S. because untenable wait times could lead to preventable deaths.
The Canada Mortgage and Housing Corporation (CMHC) said last year that we need at least 5.8 million homes by 2030 for housing to become affordable again. A year later, many municipalities across the country aren't anywhere near on pace to build their share of the pie.
Article content
It's also more and more often newcomers themselves, particularly temporary workers and students, who suffer the brunt of housing shortages when they arrive. This has led to increasing exploitation, from employers confiscating passports to landlords taking rent in the form of sexual acts.
This is certainly not the Canada many newcomers imagined, and it shouldn't be one we're proud to offer more and more of them with visions of our own economic gain dancing in our heads.
Any realist would see something has to give. Canada can't have it all when it comes to immigration while shortages of basic goods and services persist. While the shortages aren't immigrants' faults, and they shouldn't be blamed for them, that doesn't preclude us from acknowledging our immigration policies need a sober second look.
Article content
Sabrina Maddeaux: Liberals bring in influx of immigrants without a plan to support them

Randall Denley: Ontario can't handle Trudeau's immigration influx
Coletto's national Abacus Data survey taken this June reports 11 per cent of Canadians now rank immigration as a top three issue. More revealing, 61 per cent of respondents consider Canada's 500,000-per-year immigration target too high. Thirty-seven per cent of Canadians classify the 500,000 target as "way too high."
I can't help but wonder what the response would be had Abacus's question cited the true one million newcomers entering per year. As it stood, 63 per cent of respondents think the number of immigrants entering Canada is having a negative impact on housing, and 49 per cent feel the same way about the impact on health care. Only 43 per cent believe immigration is positively impacting our economic growth.
Article content
Many federal politicians seem afraid to touch the complex immigration file for fear of being branded xenophobic or racist by political opponents. Yet, Coletto finds even a majority of immigrants think current targets are too high.
Barring a miracle on the housing or health-care fronts, and if public opinion continues in this direction, lawmakers can't avoid the immigration file much longer. The question should be, how can we responsibly tailor our immigration policies now, so that we can continue to grow the country robustly into the future?
Canada's been lucky to enjoy so many decades without having to think too hard about immigration, but the longer we wait to do so, the tougher the eventual conversation will likely be.
National Post