Do public health officers realize the damage they've done themselves?
Dr. Tam is back on television, and her provincial counterparts likely soon to follow. Will anyone be listening?
Get the latest from Chris Selley straight to your inbox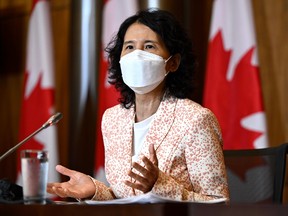 Article content
Throughout the pandemic, polls have shown a decline in confidence in public health: Researchers at McMaster University and Vox Pop Labs found that in March 2020, 59 per cent of Canadians had "a great deal of trust" in public health officials. Two years later that had plummeted to 37 per cent.
We have recently enjoyed months of being able to ignore COVID-19. Even the relentlessly, uniquely pessimistic Canadian media seemed to have exhausted themselves. So I found it a bit jarring to see Dr. Theresa Tam, Canada's chief public health officer, suddenly back on the TV this week admonishing us to "get your mask ready" for fall and book yourself in for a booster. Dr. Kieran Moore, Tam's counterpart at Queen's Park, is due in the coming days to give Ontarians what will likely be a similar update.
Article content
If this year's flu/RSV/COVID season is as bad as last, it will be fascinating to see how Canadians react. Perfervid opposition to masking and vaccination are minority positions: In the midst of last year's autumn surge in childhood hospitalizations, a Nanos Research poll found 69 per cent of Canadians would support a return of mask mandates "if authorities deem(ed) it necessary."
But are people ready to hear it, again, from the same public-health officials who have all-but destroyed their entire field in the last three years — seemingly without realizing it? It will be intriguing to see.
Tam's original sins remain totally unexplained — at an official inquiry, for example, hint hint — never mind expiated. For days and weeks in early 2020, while our peer countries were closing borders and preparing for a pandemic, Tam assured us "the risk to Canada is low." She lied that World Health Organization rules prohibited us from closing borders. She told us masks were worse than useless, and the only excuse anyone can offer is that she was fibbing to prevent Canadians from hoarding PPE. (I think she actually believed it. Either explanation is a firing offence.)
Article content
Remember the utterly incoherent advice the Public Health Agency of Canada provided to incoming travellers in the early days? Remember the built-to-fail, purely political quarantine hotels that Tam said weren't necessary until they suddenly were — just as she said 14-day quarantine at home wasn't necessary until it suddenly was? We were weeks if not months behind most of our peer countries. Regardless of your position on any given restriction, none of it made any sense.
Chris Selley: We need more than a COVID inquiry. We need an inquiry into everything

Chris Selley: Where are our COVID-19 public inquiries?
Most of the day-to-day restrictions we lived with were provincial creations, of course. And Tam's provincial colleagues fared little better. British Columbia's Dr. Bonnie Henry was hailed as a hero early on — "she has guided B.C. with a deep empathy, with vulnerability, and with decisions that have been proven over and over to be right," a Toronto Star columnist gushed. Henry even had the flaming chutzpah to publish a self-congratulatory book about herself.
Article content
Not long later she found herself facing down a revolt from parent groups and school districts over her belief younger students needn't mask up at school. She flip-flopped, then waved away any suggestion British Columbians had lost confidence in her. (Henry has always clearly been far more skeptical about masks than her counterparts.) The restrictions she implemented, the businesses she allowed to open and those she ordered closed, were as bewildering and obviously politically motivated — who's going to complain least while we seem to be doing something? — as in every other province.
Henry was perhaps the most strident Canadian voice insisting that COVID-19 transmission at school was nothing to worry about. It was a lovely idea. I wanted to believe it! But why would COVID-19 be the one bug kids don't give to each other at school like it's their job? More recent evidence impugns Henry's overly confident stance, as do internal emails published last year by online news outlet Capital Daily suggesting she was deliberately downplaying the risk.
The flipside of Henry's stance was Ontario's, where public-health officials (municipal and provincial alike) signed off on the longest school closures in the developed world "for the sake of the children" — i.e., literally the people we needed to worry about least. Now schools are a mess of behavioural problems and learning deficits. Some kids seem to have gone downright feral.
Article content
Dr. David Williams, Henry's preternaturally hapless counterpart at Queen's Park until mid-2021, hit rock bottom early that year (along with the Progressive Conservative government). On March 19, Williams signed off on new regulations that would allow outdoor dining in some relatively low-transmission jurisdictions. Restaurants stocked up, brought on staff, bought patio furniture … and then two weeks later, amid a surge in cases that everyone saw coming, Williams signed off on a month-long province-wide shutdown — a totally inexplicable change from the regional approach the government had been using.
The fact is, public health officers have always been political actors, beholden at least to some significant extent to their political bosses. And that has always been awkward, conceptually: If your job is to give your best advice behind the scenes and then support whatever the government decides anyway, how are you anything other than an unelected cabinet minister?
This basic arrangement worked when our biggest problems were botulism-infected alfalfa sprouts, or heat warnings, or MMR vaccination rates, or even SARS for that matter. Under the strain of a world-class health emergency, however, it crumbled like meringue. Politicians often sounded ridiculous, and doctors looked even more so supporting them … because they're doctors.
The days of hero-worshipping public-health officers seem to be over, and thank goodness for that. But I'm intrigued to see whether the public is even willing to listen to them once they're back on television regularly. I've heard the most strident lockdowners (including doctors) and the most strident anti-lockdowners alike ask a very trenchant question: "Just what the hell is public health, anyway?"
We await answers. Perhaps at an inquiry. Hint, hint.
National Post
Get the latest from Chris Selley straight to your inbox