Councillors seek removal of graphic City of Ottawa jaywalking ad
In Ottawa, 27 pedestrians were killed in collisions during the five-year period between 2016 and 2020.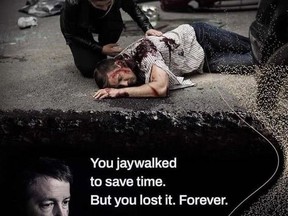 Article content
The City of Ottawa has pulled two graphic online advertisements designed to discourage jaywalking among pedestrians.
In a memo to city council issued Sunday, public works department general manager Alain Gonthier said the test ads have been removed "given the concerns with the use of the 'jaywalking' terminology."
Article content
Capital Ward Coun. Shawn Menard was one of two councillors who raised concerns about the ads Saturday after a storm of controversy erupted on social media. Among other things, Menard said it was offensive to use the term 'jaywalking' since it foists repsonsiblity for road violence onto victims.
Article content
"There is no such crime in Ontario as jaywalking," he noted. "We should not be perpetuating this pejorative term."
Gonthier told councillors his team will reassesss the situation Monday to determine whether or not sufficient data has been collected on the test ads to inform the development of the city's road safety campaign, which is to be launched later this year.
"The intent of the road safety campaign that is being developed is trying a different approach to get the message across and is not to lay blame on any one party or individual," Gonthier said.
One advertisement pulled by the city features a bloodied and bruised pedestrian lying on the pavement with an accompanying admonition: "You jaywalked. You saved time. But you lost it. Forever. Cross only where it's safe."
On Saturday, social media users such as Ottawa's Toon Dreessen decried it as "victim blaming." He called the ad "shocking."
"It fails to recognize road violence for what it is," Dreessen said in an interview. "It's victimizing pedestrians for being hurt when it's inattentive drivers, poor infrastructure, poor road design that are really the culprits."
Article content
In Ottawa, 27 pedestrians were killed in collisions during the five-year period between 2016 and 2020, according to a City of Ottawa road safety report.
Menard and Alta Vista Ward Coun. Marty Carr asked the city to immediately withdraw the advertisement.
Menard said the ad was offensive on multiple" levels. "It blames the victims of road violence for their injuries or death, when, in fact, the city bears the greatest responsibility as residents do not design the potentially dangerous streets they are forced to navigate, walk along and cross," he said.
Using images of bloodied and damaged bodies, Menard added, could be also disturbing to people who have been victims of road violence.
In a message to city council Saturday, Gonthier apologized for failing to inform councillors that a set of road safety "test ads" were being rolled out in advance of a full campaign later this fall. He also defended the approach taken in the ads.
"We acknowledge the graphic nature of the visuals," Gonthier said in his email, obtained by this newspaper. "This approach has been done in other jurisdictions around the world and is in line with a safe systems approach to road safety, whereby all users of the roadway have a shared responsibility for their safety.
Article content
"We believe this approach will depict the serious nature of road safety and lead to a greater awareness to all road users of their responsibilities, which will contribute to our goal of saving lives."
The image of the stricken pedestrian was only one in a series of test ads developed by the city, Gonthier said, and was released "on a limited basis." Other ads in the series target unsafe driving habits.
Gonthier said the ad campaign was meant to change individual behaviours, and, to that end, it sought to put a human face on the issue rather than to rely on statistics.
The city's road safety action plan aims for a 20-per-cent reduction in the average annual rate of collisions resulting in fatal and major injuries by 2024.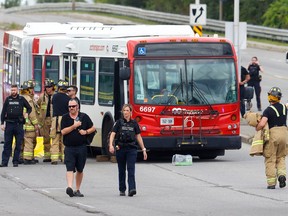 Gonthier said research showed 29 per cent of serious pedestrian accidents in Ottawa during the past four years occurred when pedestrians crossed the street mid-block rather than at intersections; another 23 per cent occurred when pedestrians with the right-of-way were struck by drivers turning left.
Dreessen maintained the city should apologize for the tone of the ads, adding: "There needs to be a more sustained commitment on part of city staff and city council to impose design leadership and make our streets safer for people."
Some Ottawa streets, he said, such as the Blackburn Hamlet Bypass and Strandherd Drive, are designed for highway speeds. Many other city speed limits, he said, do not account for the size and weight of today's pickup trucks and SUVs.
Andrew Duffy is a National Newspaper Award-winning reporter and long-form feature writer based in Ottawa. To support his work, including exclusive content for subscribers only, sign up here: ottawacitizen.com/subscribe
Article content
Explaining Ottawa's Greenbelt – and its future

Driver fined $2,000 for 2022 hit-and-run that critically injured teen
link