Allison Hanes: Quebec's health-care crisis takes no vacation
Statistics on ER occupancy, wait times and access to primary care paint a portrait of why Quebec's health system is crumbling.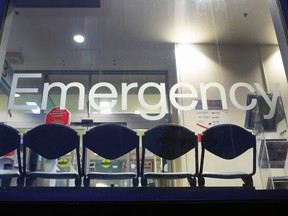 Article content
It's the middle of the annual construction holiday, but Montreal's emergency rooms are as busy as ever.
A rundown of the occupancy rates in the city's major hospitals late last week showed 10 of the 21 institutions had patient volumes over 100 per cent. The Douglas Mental Health University Institute was at 233 per cent capacity.
Article content
The situation wasn't much better on the South Shore, in the Outaouais, the Eastern Townships or the Laurentians, what with medical staff off on vacation and vacationers in need of care.
Article content
Health crises don't take holidays, after all.
Drilling deeper into the data also tells a familiar story. The average wait to be seen by a doctor stretched to just over eight hours at the Lakeshore General Hospital on Friday; just over seven hours at the Royal Victoria Hospital, which is part of the McGill University Health Centre; and 6 1/2 hours at the Centre hospitalier de l'Université de Montréal. The average time for patients languishing on stretchers while waiting for admission was even longer, including 26 hours at the Lakeshore; 25 hours at Notre-Dame Hospital; and 23 1/2 hours at the Montreal General, also part of the MUHC.
The Montreal General also had 24 patients who had been waiting more than 24 hours on a stretcher Friday and 16 who had been waiting more than 48 hours.
This was just a snapshot of a situation that sometimes gets slightly better and occasionally gets much worse, but never seems to be resolved despite widespread public concern, the best efforts of health professionals and various government reforms.
The statistical portrait also glosses over the human misery it documents: exhausted parents dozing on chairs with sick children; frail seniors getting bedsores and losing their dignity on hard stretchers lining hospital corridors; exhausted doctors afraid of missing something while caring for so many patients; nurses barely able to keep up with basic care due to the stress.
Article content
But, like a paint by numbers, the statistics also expose the underlying causes of an unacceptable situation that has become the norm. The traffic in emergency rooms and the length of the waits seem inversely proportional to how many (or, more accurately, how few) people have family doctors in a given region.
Comparing ER wait times in Montreal, where the population has one of the lowest rates of access to a general practitioner in the country, with that of other cities bears this out.
Data from the Canadian Institute for Health Information (CIHI) shows that only 69.8 per cent of Montrealers had a general practitioner in 2019-20, compared to 86.7 per cent of Torontonians, 80 per cent of Vancouverites and 87.2 per cent of Ottawans. In Quebec as a whole, 79.5 per cent of people had access to a primary caregiver; in Canada, the rate was 85.6 per cent.
CIHI figures also show the average delay before an initial assessment in Montreal ERs was 6.3 hours in 2021-22. In Toronto, it was 3.6 hours; Vancouver, three; and Ottawa, 4.9. The average for all of Quebec was 6.2 hours, above the Canadian norm of 4.2. Interestingly, in Quebec City, where 79.5 per cent of the population has a GP, it was only 4.7 hours.
Article content
Similarly, the total time spent in the ER was far higher in Montreal, at 56.5 hours, compared to 34.7 in Toronto, 38.1 in Vancouver, 32.6 in Ottawa and 37.2 in Quebec City.
Although there can be many reasons for long waits — like an older population, more serious illness and fewer staff — the most obvious is that patients have nowhere else to turn. The ER is the last line of defence in a system in which access to primary care is limited — and which is under increasing stress as a result.
A survey of Canadians by the OurCare initiative, published in the Canadian Medical Association Journal, also found that "racialized people, those with lower incomes and those in poor health were among those least likely to report having a regular primary care provider."
There is a shortage of general practitioners in Quebec, caused both by doctors retiring and various government policies making family medicine unattractive — for example, licences that dictate where a physician is allowed to practise and additional medical duties in ERs, long-term care homes or obstetrics.
According to the Association des jeunes médecins du Québec, 536 residencies have gone unfilled since 2013, while 500 physicians have quit the public system, resulting in "the equivalent of hundreds of thousands of additional orphan patients."
Article content
In the face of this deficit, the government of Premier François Legault last year admitted it had given up on the likely unattainable goal of ensuring every Quebecer has a GP. It also launched a system called the GAP (Guichet d'accès à la première ligne) to refer patients with no family doctor to clinics that have openings. Health Minister Christian Dubé has also promised to ease the restrictions on where physicians can practise.
But despite these policy tweaks, the Association des jeunes médecins warned in an open letter to Quebec MNAs that the major planned reform of the health system contains "coercive and deleterious aspects" that will only undermine the recruitment of doctors. Bill 15, which pledges to centralize management under a new agency called Santé Québec, will also require more physicians, including specialists, to pitch in elsewhere in the system, be it in nursing homes or emergency departments.
"Imposing new hospital obligations will inevitably result in an acceleration of the exodus from the public system," the letter states.
So the construction holiday may be in full swing, but the numbers show there's no break from the issues that plague health care.
Allison Hanes: PREMs driving new doctors out of public health system

Allison Hanes: Rx for the family doctor shortage